Quest Dance Center Mission Statement 
At Quest Dance Center, our mission is to provide a safe, inclusive, and inspiring environment for dancers of all ages and skill levels. We offer a range of programs, including street-style hip hop, ballet, tap, tumbling, cheer, and competition teams, to help each student develop their individual style and passion for dance.We believe that dance is more than just movement; it's a form of self-expression, communication, and art. Through our classes, performances, and competitions, we encourage our students to discover their unique voice and creativity while also developing essential skills such as teamwork, discipline, and perseverance.Our commitment to excellence extends beyond the dance studio. We aim to foster a community of lifelong learners who value hard work, respect, and diversity. We believe that by cultivating these qualities in our students, we can help them achieve their full potential both on and off the dance floor.At Quest Dance Center, we strive to inspire our students to reach for the stars and pursue their dreams with passion and dedication. We are dedicated to providing a positive and supportive environment where students can grow, learn, and thrive as dancers and individuals.
Quest Dance 2023/2024 Update  
 All are Welcome! 
3820 Kemp Road Kemp Road Beavercreek Oh 45431 (937)306-8733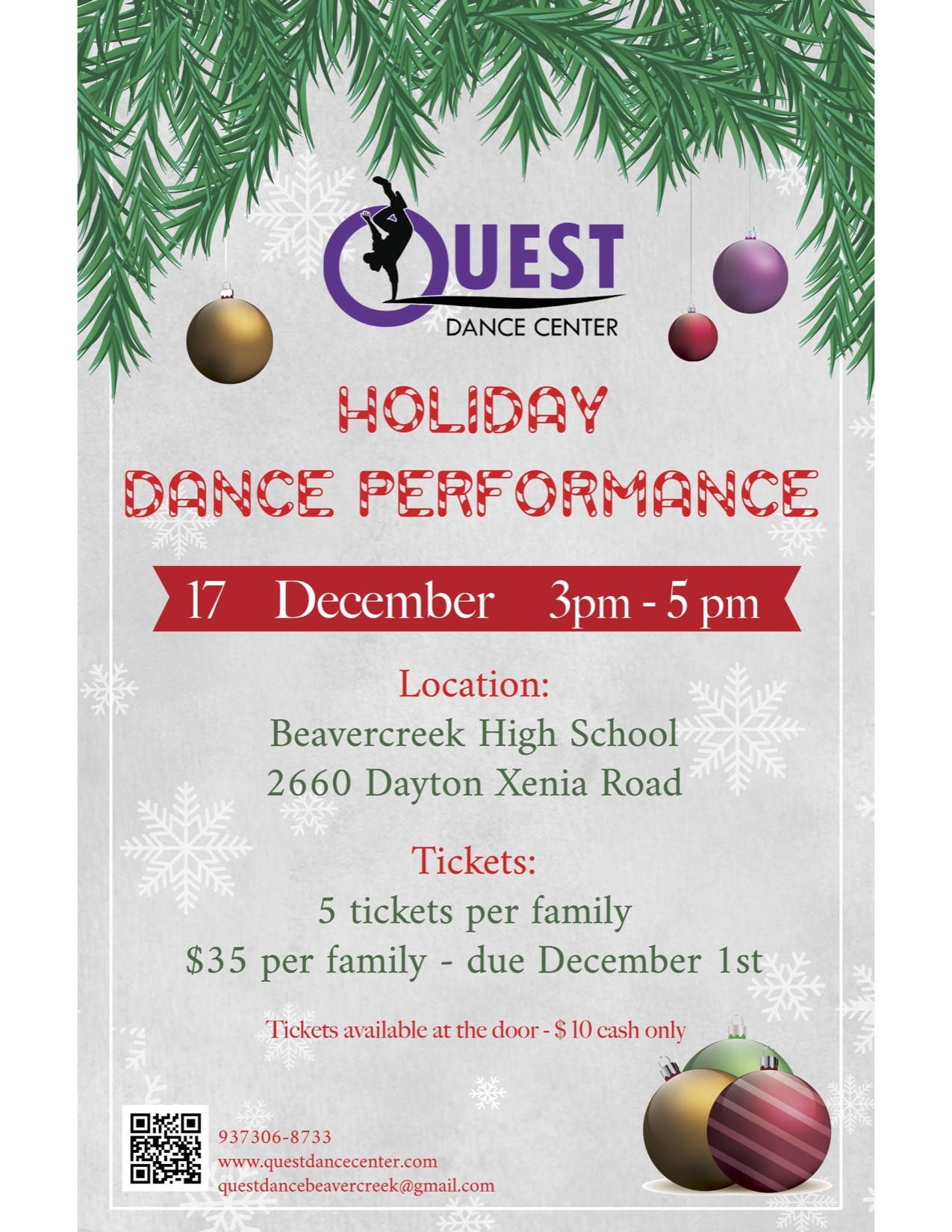 30 MINUTE CLASS
+ 30 minute class
+ 1 Class per week
+ Make up classes available each week
45 MINUTE CLASS
+ 45 minute class
+ 1 class per week
+ Make up classes available each week
60 MINUTE CLASS
+ 60 minute class
+ 1 Class per week
+ Make up classes available each week
+ 90 minute class
+ 1 class per week
+ Make up classes available each week
Crew Comp CLASS
+ 120 minute class
+ 2 Class per week
+ Make up classes available each week
Company
90 minute class

1 class per week

Make up classes available each week
Solo Lessons
30 minute class
1 class per week
Make up classes available each week
Duets
+ 45 minute class
+ 1 class per week
+ Make up classes available each week
Trio Lessons
45minute class

1 Class per week

Make up classes available each week
Gravity Dance Team Special Needs Dance
60 minute class

2 class per week

Make up classes available each week